1x1 – Der Junge im Eisberg
Die beiden Geschwister Sokka und Katara finden einen seltsamen Jungen und seinen fliegenden Bison in einem Eisberg. Gleichzeitig nähert sich ein Schiff der Feuermarine.
Gesehen von 35 Usern
1x2 – Der Avatar kehrt zurück
Um die Gefahr vom Wasservolk am Südpol abzuwenden, stellt sich Aang dem Prinz der Feuernation und gerät in dessen Gefangenschaft. Sokka und Katara versuchen ihn, mit Hilfe des fliegenden Bisons, zu retten. Ganz so schutzlos ist Aang aber doch nicht.
Gesehen von 35 Usern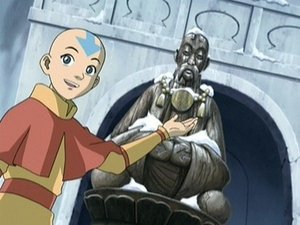 1x3 – Der südliche Lufttempel
Aang reist, zusammen mit Sokka und Katara, zu seiner alten Heimat, dem südlichen Lufttempel. Der Tempel scheint seit langer Zeit verlassen zu sein. Währenddessen läuft Prinz Zuko mit seinem schwer beschädigten Schiff den nächsten Hafen an.
Gesehen von 35 Usern
1x4 – Die Kriegerinnen von Kyoshi
The gang arrives at Kyoshi Island and are captured by some Kyoshi warriors. When Aang reveals that he is the avatar, news quickly spreads out and suddenly reaches to Prince Zuko who then goes to Kyoshi Island to capture him.
Gesehen von 34 Usern
1x5 – Der König von Omaschu
Aang's abilities as an airbender are challenged by a king.
Gesehen von 34 Usern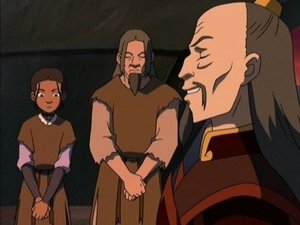 1x6 – In Gefangenschaft
In a nearby Earth Village, the gang meets a teenage earthbender named Haru. This village lives in fear of the Fire Nation, for soldiers there capture any earthbenders they can find.
Gesehen von 34 Usern
1x7 – Wintersonnenwende (1) - Die Geisterwelt
Aang and friends visit a village being terrorized by an angry spirit. Iroh is captured by Earth Kingdom soldiers.
Gesehen von 34 Usern
1x8 – Wintersonnenwende (2) - Avatar Roku
To contact the spirit of the previous Avatar, Aang must reach a temple in the Fire Nation before the sun sets on the following day. There he will learn what he must do to restore balance to the world. Zuko must defy his banishment to follow Aang.
Gesehen von 34 Usern
1x9 – Die Schriftrolle
Jealous of the ease with which Aang is learning waterbending, Katara goes to extreme lengths to get a scroll that teaches advanced techniques. Zuko is frustrated when Uncle Iroh insists they put to land to get a new White Lotus tile for his Pai Sho game.
Gesehen von 34 Usern
1x10 – Jet, der Rebell
Aang, Katara, and Sokka have their friendship tested by a charismatic Rebel Leader who is fighting against the Fire Nation.
Gesehen von 34 Usern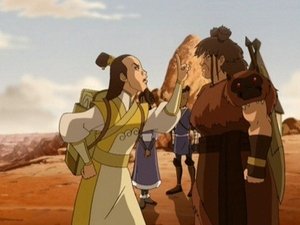 1x11 – Grabenkämpfe
Aang is tested as the Avatar when he must help two feuding clans cross a dangerous canyon peacefully.
Gesehen von 34 Usern
1x12 – Der Sturm
Aang relives the events after finding out that he is the Avatar 100 years ago and tells them to Katara, while Iroh tells the story of Zuko's scar and banishment to the crew.
Gesehen von 34 Usern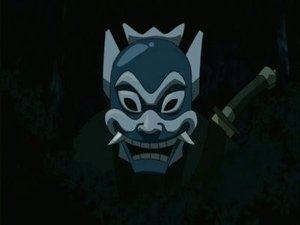 1x13 – Der blaue Geist
When Aang is captured by the Fire Nation, his only hope is a mysterious masked figure.
Gesehen von 34 Usern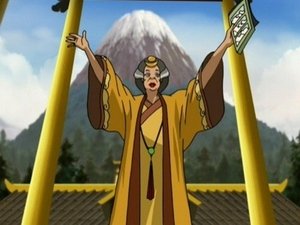 1x14 – Die Wahrsagerin
The Gaang visits a village where a fortuneteller lives who is said to never be wrong. Aang tries to show Katara how he feels about her.
Gesehen von 34 Usern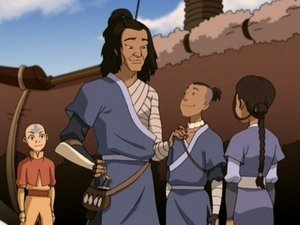 1x15 – Bato vom Wasserstamm
Sokka and Katara meet a friend of their father who offers to take them to join the Water Tribe's navy. Aang fears his friends will choose seeing their father again over staying with him.
Gesehen von 34 Usern
1x16 – Die Macht des Feuers
When he meets an outcast from the Fire Nation, Aang is impatient to skip ahead in his training.
Gesehen von 34 Usern
1x17 – Luftakrobaten
Aang is upset when he finds an old Air Temple has been desecrated by an old inventor and his son.
Gesehen von 34 Usern
1x18 – Der Meister der Wasserbändiger
The heroes finally arrive at the North Pole. But for Katara, the trip may have been in vain, as Master Pakku refuses to teach girls waterbending.
Gesehen von 34 Usern
1x19 – Die Belagerung des Nordens (1)
While Katara herself becomes a great waterbending master, Commander Zhao plans a siege on the Northern Water Tribe. Meanwhile, Sokka's on a mission to stop this siege while Aang tries to buy them some time.
Gesehen von 34 Usern
1x20 – Die Belagerung des Nordens (2)
The Fire Nation is attacking the North Pole and Sokka, Katara, and Yue are looking for Aang. Zuko has Aang, but Aang is in the spirit world, where he meets Avatar Roku. Zuko and Aang are trapped in a cave during a storm, where Zuko shares some inner turmoil with Aang, who is in the Spirit World. At the water tribe, the firebenders are winning. Iroh attacks Zhao when Zhao reveals that he wants to kill the spirits of the moon and the ocean. In the Spirit World, Aang meets Koh the Face Stealer, who tells him that someone is planning on killing the spirits and he needs to...
Gesehen von 34 Usern
Quelle:
themoviedb.com